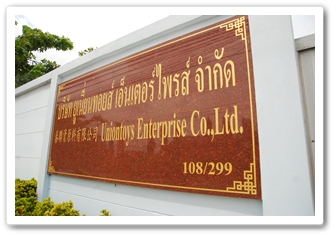 Union Toys Enterprises Company Limited was established on19th April 1997 by Wangdek Groups. The company is located at 21/7 Wangdek Building 1, 3rd Floor, Vibhavadi Road, Jompon, Jatujak, Bangkok 10900

Union Toys Enterprises business acts as a plastic resins distributor to provide raw materials to factories for the manufacture of polymer products.
Appointed as an authorized domestic agent of IRPC Public Company Limited, PTT Polymer Marketing Limited, and TPI Polene Public Company Limited, we do fulfill the whole range of polymer materials, such as PP, PPCOPO, HDPE, LDPE, LLDPE, PS, HIPS, ABS, EPS, and engineering plastic products such as PA6, PA66, POM and PC.
Union Toys Enterprises is also committed to deliver best service on counseling by our team of expertise in usage of each type of materials or even problems regarding to plastic manufacturing machine and all molding processes.
With instability in polymer price, we provide solutions for customers by having our own warehouse to stock materials to be all time available. The warehouse, located at 108/299 Soi Bangkadi Moo 1 Rama II Road Km.11 Samaedam Bangkhuntian, delivers convenient logistic service including warehousing and nationwide distribution. Union Toys Enterprises believes that with more than 10 years of our experience we can satisfy sophisticated needs of our customers in providing full range of materials and quality of services.
Affiliated Companies 
. 
Uniontoy (Thailand) Co.,Ltd
Plastworld Intertrade Co.,Ltd
WangDek Toysland Co.,Ltd
Small World Toys Citi Co.,Ltd
Asia Jumbo Industry Co.,Ltd
Sahalert Bangkok Co.,Ltd
J.B.Inter Product Co.,Ltd
J.B.Building Co.,Ltd
Wang Intertrade Co.,Ltd